European Radio Amateurs' Organization

open to the world wide amateur radio community

Amateur Radio News...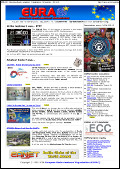 In this issue you will find:
At the begining it was... RTTY
AO3MWC: Mobile World Congress 2016
Kits for beginners
OT0MIN: Blégny Coal Mine for MAOTA
EURAO Party - Winter 2016: let's do RTTY
New members: REEC, ...
News in brief
...
EURAO Newsletter comes out quarterly, either in pdf format and as a website. Spread the word!
Unsubscribe: If you do not wish to receive this newsletter any more, just reply to this email stating UNSUBSCRIBE in the subject. If you prefer to receive it in another email, tell us the old and new address, and we will change it.

© 2005-2016 EURAO - European Radio Amateurs' Organization